With the rapid development of ecommerce recently, Singapore has been a preferred hub for online businesses. Therefore, it's important for any businesses who want to enter this prospect market to research top Singapore ecommerce companies. In this article, we would look at the top best ecommerce sites in Singapore 2023, and analyze why they stand out from the crowd.
Top 10 ecommerce sites in Singapore 2023
1. Shopee: the top best ecommerce sites in Singapore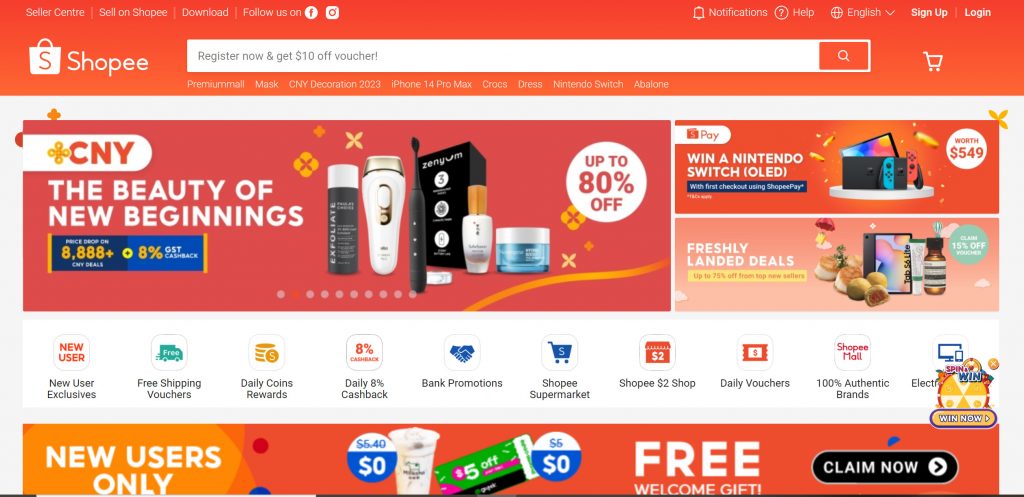 According to Statista, there are 14,986.7 million web visits in Shopee every month.
The success of Shopee, a well-known ecommerce platform, in Southeast Asia's ecommerce market is not surprising. Although Shopee entered the ecommerce sector somewhat later than anticipated, it has swiftly caught up and is now the ecommerce unicorn of Asia. 
Needless to say, Shopee's inventive attitude to adopting technology and their courage to try out innovative tactics contributed to their success. Shopee came to prominence in Singapore because it consistently offered tempting discounts and free delivery for products. Another strategy of this ecommerce website has helped it conquer the market is providing 'shoppertainment', engaging customers in mobile games, live streaming, etc. This way has successfully attracted more customers and encouraged them to shop on the website. Furthermore, Shopee has paid close attention to customizing their offering to each nation in Southeast Asia. The way of differentiating the market based on area has helped Shopee reach their potential customers better.
2. Lazada: One of the Singapore's biggest ecommerce sites
As researched by Statista, Lazada receives 7,183.3 million web visits monthly.
Entering Singapore's ecommerce space in 2011, Lazada's strategy to lead the market is 'earlier rather than later'. In particular, the pioneer shared four strategies to grow in the market: building trust, expanding the range, developing a global retail network, and investing in logistics. 
This ecommerce platform based in Singapore carefully considers every part of the online purchasing experience. Every step, from order placement and payment through fulfillment and delivery, is carefully considered and optimized to produce enjoyable customer experiences that will encourage repeat purchase. 
3. Amazon: Western ecommerce website in Singapore
Amazon remained its third position in the list of most visited ecommerce sites in Singapore, with the monthly web visit being 4,866.7 (Statista).
The success of Singapore Amazon can be attributed to the strategy of supporting local brands. In 2020, the first year of Singapore Amazon's participation, about 12,000 small companies in Singapore were invited to participate in Prime Day, which is an annual discount event for Amazon Prime subscribers. Despite being a strategic move, the decision was well received by Singaporean customers.
4. Qoo10: one of the top Singapore ecommerce players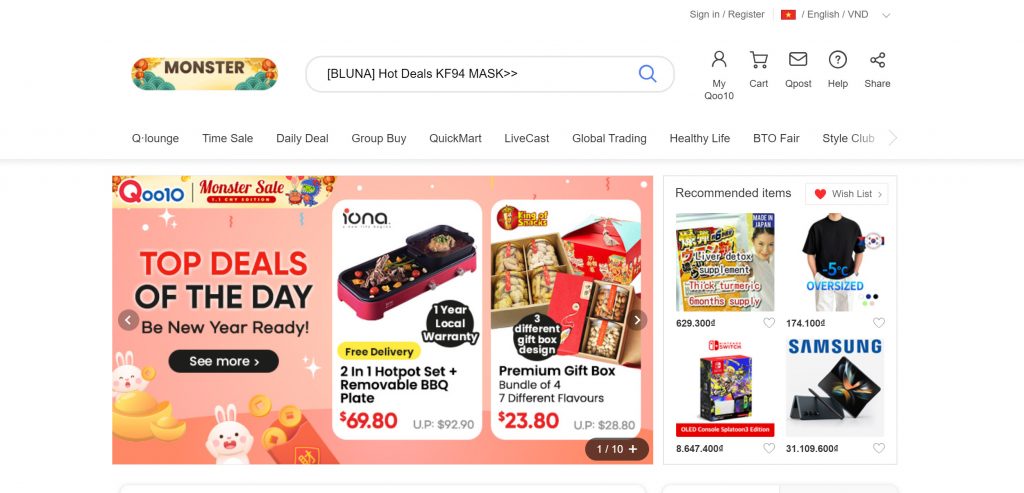 Qoo10 has 2,893.3 million monthly traffic (Statista)
Founded in 2010, Qoo10 is one of the oldest ecommerce sites in Singapore. The site offers a wide range of products for customers with lower prices than its rivals, ranging from home appliances to fashion and beauty products. In contrast to businesses that are only using the lion city as a strategic entry point for their Asian expansion, Qoo10's highly localized offers reflect its extensive experience in the Singapore e-commerce sector. Although the strategy was proved to be successful in its heyday, Qoo10 has failed to maintain its dominance in the market in recent years.
5. Castlery: Singapore's home furniture online shopping site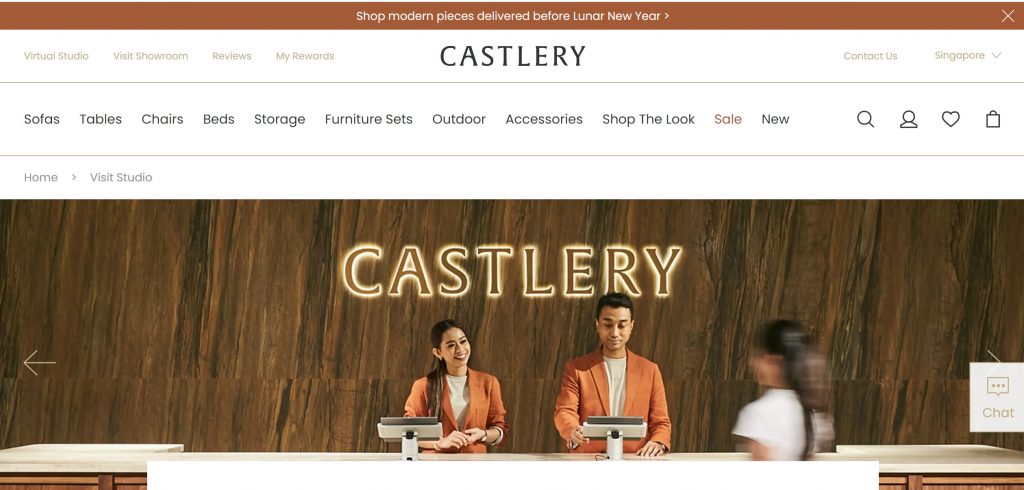 As stated by Statista, Castlery attracts 1,433.3 million web visits per month.
Borned in 2013, Singapore's online shop for furniture provides a direct-to-consumer approach, which allows the business to offer affordable prices to customers by cutting out all middlemen and markup layers standing between it and the customers.When analyzing this specific situation and considering the e-commerce market as a whole, adopting a D2C model seems to be the way that retail companies will operate in the future.
6. Love, Bonito: online website for fashion shopping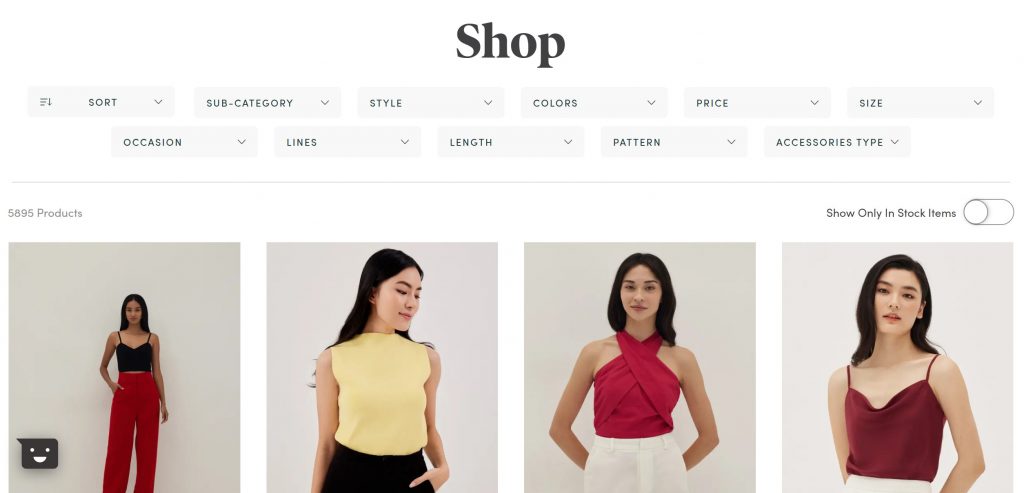 Love, Bonito has monthly web visited of 747.4 million (Statista)
Started as a blog shop in 2010, interestingly, Love, Bonito has grown in the list of the top ten most visited ecommerce websites in Singapore nowadays. Fashionistas can thank Love, Bonito for bringing stylish, on-trend items to their front doors at an affordable price. Its biggest competitor is Zalora, the main fashion ecommerce player in the Asian market. However, Love, Bonito found its own way to cooperate with its rivals. Love, Bonito uses the ecommerce market as one of their selling methods rather than compete with Zalora.
7. Zalora: leading Southeast Asian online fashion retailer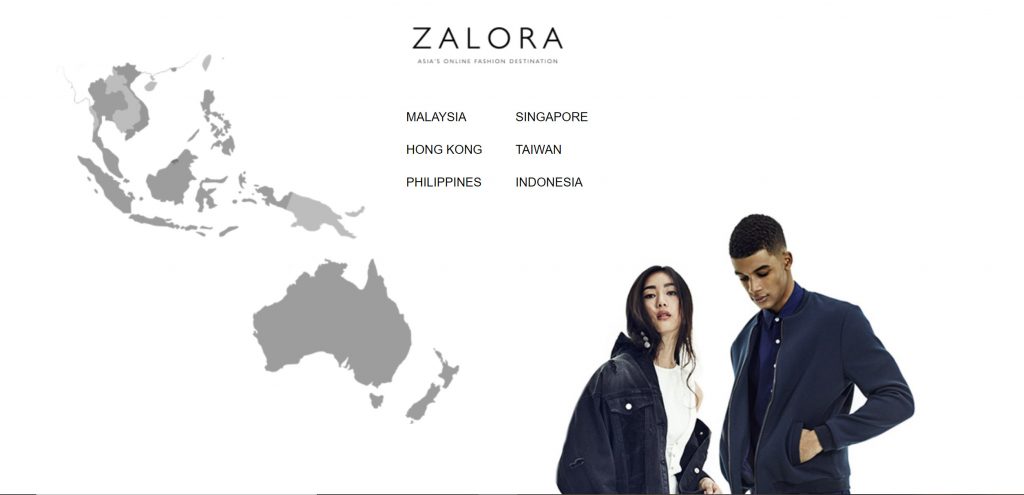 According to Statista, Zalora's monthly web visits is 671.4 million.
Founded in 2012, Zalora came in presence in Singapore, Indonesia, Malaysia, Brunei, etc. More than 3,000 different brands, including Adidas, Birkenstock, Under Armour, VANS, and many more, are represented to purchase on this website. Through their carefully chosen product selections and quick delivery services, Zalora focuses on offering high-end fashion brands to their clients at an affordable price range.
8. COURTS: Electronics and furniture online retailer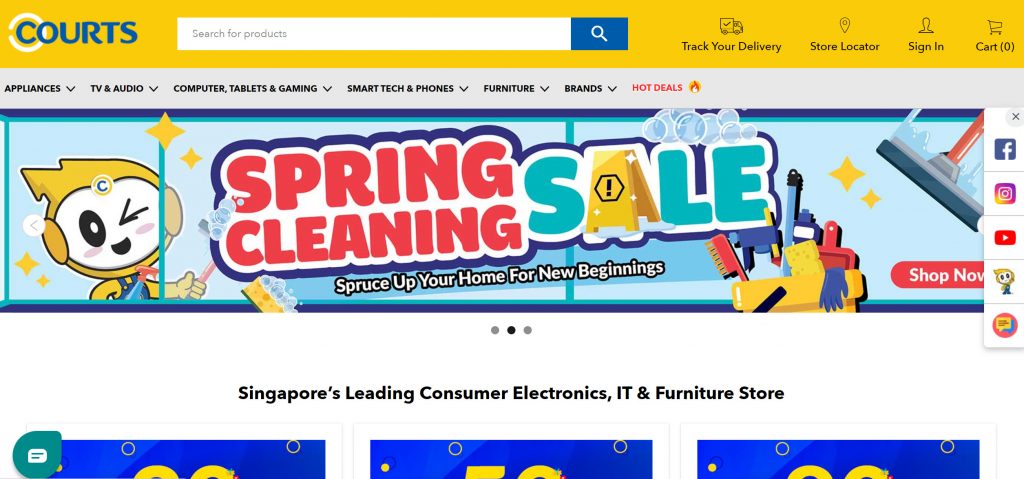 Courts receive 647.8 million monthly visits (Statista).
Originated in the UK, COURTS arrived in Singapore in 1974 and has since established a network of more than 10 physical locations across the country. Furthermore, its online store, which debuted in 2017, is currently among the top ten ecommerce sites in Singapore. 
9. Ezbuy: Singapore-based global ecommerce website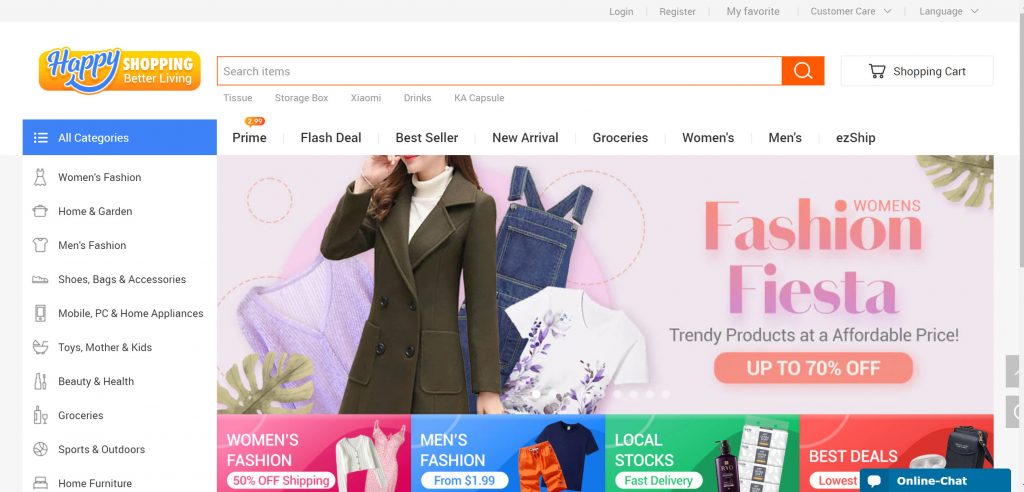 Ezbuy gets 598.1 million web visits each month (Statista).
This cross-border shopping platform helps Singaporean consumers to access international brands and sellers from China, Taiwan, Korea, the United States, and many other countries. 
During the Covid-19 pandemic, this platform suffered significant losses as a result of regional lockdowns and supply chain interruptions. Because of these limitations, Ezbuy redirected its attention to onboarding regional digital retailers, tripling the number of regional vendors in just one year. The great flexibility in strategy of the company helped it gain one of the most Singapore ecommerce visited websites.
10. eBay: Online marketplaces for bargain items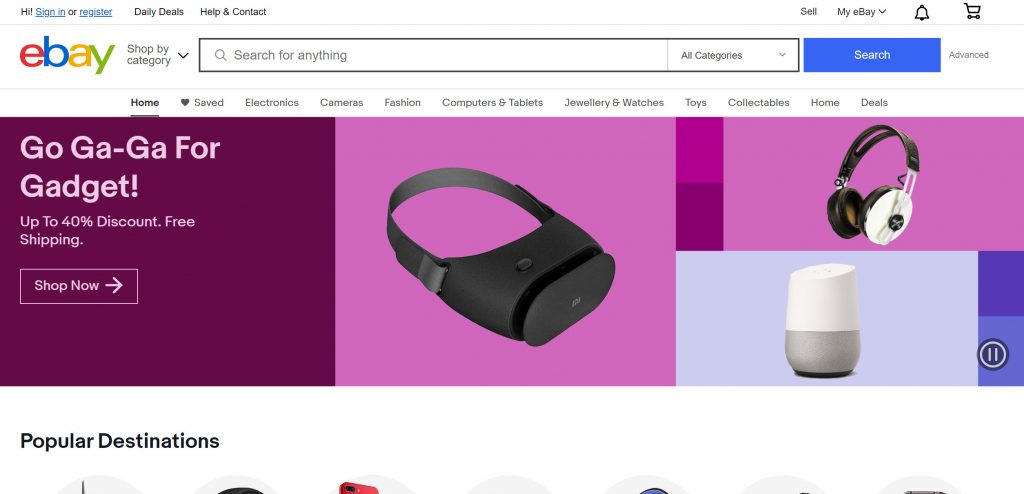 Originating in the US, Ebay gained 316.7 million web visits per month (Statista).
In fact, eBay is a website that supports consumer-to-consumer sales and auctions. Anyone may create a free eBay account and start selling new or used goods. The concept of 'recommerce' which describes the sale of used or pre-owned goods on internet marketplaces, is attributed to eBay's success. This claim is supported by the result of eBay's Recommerce Report, 34% of eBay customers mention sustainability as a reason for purchasing used goods on the website.
Conclusion
To sum up, Singapore's ecommerce market has seen significant growth recently. Analyzing the reasons behind the success of Singapore top ecommerce sites help you to draw lessons learned for your own business. An effective ecommerce website offers much more than just a place to make purchases. It's a location where businesses can design an encounter that strengthens their brand, engage in new clients, and turns casual customers into brand ambasadors.
Learn more about hiring an ecommerce agency to help you build your online store in Singapore here.