Nearly 15% of sales are made online as online shopping gradually dominates the global retail market. If you want your online business to take part in the coming wave and get high profits , having a well-developed ecommerce website will be absolutely essential. Therefore, in this article, we give you the completed guide of ecommerce website development and how to pick the right company Singapore that can carry your business forward
What is ecommerce website development?
Ecommerce website development is the process of implementing a plan to build the front- end and back- end of your ecommerce sites. This includes homepage, product pages, shopping cart, order forms, blog and support pages.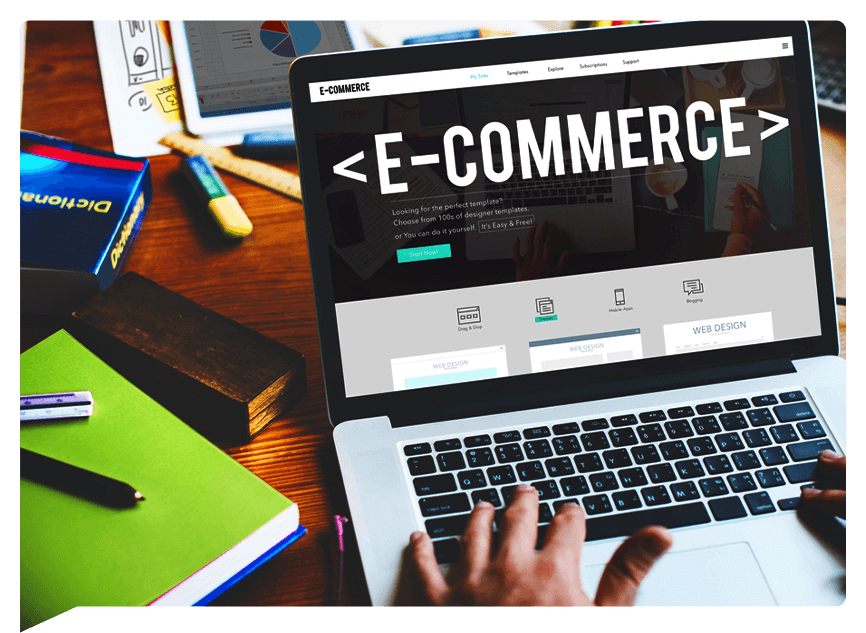 What does ecommerce website development involve?
We've broken this down to some tasks that will simplify your own ecommerce development process and help you achieve your business goals.
Set up your brand: Firstly, you need to choose the business model : business-to-business (B2B) or business-to-consumer (B2C). And, your e-commerce project should be customized to your target audience's needs and preferences, from the style of image to the level of detail in the product description. Finally, you should think of a catchy company name—something distinctive and memorable that accurately conveys the goals of your brand.
Buy a domain name and select a hosting platform: An impressive and easy- to remember domain name can attract more users to your ecommerce site and increase brand awareness. Therefore, before deciding on a company name, you should check to see what domains are available. After acquiring your domain, you choose a website host to host your site as well (preferably one with an ecommerce platform).
Design your ecommerce website: Your website design should clearly convey the objectives of your company with a recognizable logo and appealing color scheme. Especially, designing a navigable online shop is very crucial with easy search and filtering options. These are core functionality in your ecommerce site which gives a great customer experience. Besides, you should pay attention to designing shopping carts and checkout pages that directly affect your sales and brand reputation.
Develop and launch your sites: You can build your site with an ecommerce website development agency separately or use ecommerce platforms like Shopify to create your own website efficiently to save on web development costs then launch your site.
Support and maintain your ecommerce website: Your e-commerce site should be updated regularly about inventory, product lines, and promotions you run. Hence, it will need a custom and comprehensive website maintenance plan to get a fast, secure, and seamless online experience.
Features to determine when developing an ecommerce website
Based on your goal and business model, you can list functionality of your ecommerce site which must be closely linked to your customer lifecycle.
List all the general must-haves like shopping cart, payment gateways, inventory management, etc.
Add extra features that meet your unique requirements such as third party integrations, flash sales, email marketing,..
Responsive web design
As more and more customers are shopping online with their mobile phone, you'll need a responsive, mobile-friendly web design . This makes sure you can deliver a seamless shopping experience whether your website is accessed on a desktop or mobile device.
Product Management
Once developing your ecommerce site, make sure that it has indispensable functionality to add, edit products, display multiple versions of products, keep track of inventory, give promotions and discounts to customers when needed.
Checkout and payment gateways
An annoying checkout experience can lead to lost sales. In addition, if customers are forced through a complicated sign-up process before purchasing their items, they may abandon the purchase altogether. Thus, you should add a guest checkout feature that enables customers to make purchases with minimal input quickly. Besides, you can also integrate third-party payment options such as Shop Pay or Apple Pay, Paypal that gives flexible and seamless payment options to customers. This speeds up the decision-making process and increases revenues.
Online Security
The security of your ecommerce store and any data it handles or stores such as ( financial information, customer phone numbers, credit card numbers and mailing addresses, other payment information) are so important. To accept payments, you must meet PCI compliance standards. And, in order to secure ecommerce customers, you should use passwords to protect your sites, customer accounts ((don't use easy-to-guess passwords), "transport layer security" (TLS), "secure sockets layers" (SSL), and HTTPS authentication. You can also ensure that all corporate devices are equipped with anti-virus and anti-malware software.
SEO
Search engine optimization (SEO) improves your products' visibility and then increases your sales by making your site have higher ranking in search engines. You can use various content strategies and techniques to achieve this with keyword mapping strategy to get your site ranked higher than your competitors in search results related to your products.
Do you need an ecommerce website development agency ?
There are many ways to easily design and develop your own e-commerce website using web builder tools, but if you have cash on hand, you can determine to hire an ecommerce website development agency to build a site that is both visually appealing and functionally sound.
Scuti is your trusted ecommerce development partner that can help create your own online store with the highest quality and efficiency. Our seasoned team of developers and eCommerce experts handle all complex web projects, business-related challenges with ease and offer cost effective solutions to the table. Have something amazing to discuss? Get in touch with eCommerce experts from Scuti for a free consultation.
Conclusion
An eCommerce store not just enhances the online presence of your business but also brings it closer to a wider customer base. Therefore, online businesses need a powerful eCommerce store for their existing crest. Business owners are eagerly finding opportunities and reliable ecommerce website development agencies to partner with for an eCommerce do up. This can effectively help them streamline their business and improve profit margins.